Slow cooker asparagus and mushroom quiche, a recipe between a quiche and a frittata. No crust nor heavy creams, so a really healthy recipe for everyday meals.
Easy to make recipe using seasonal vegetables to enjoy it with a nice salad. It is the perfect recipe if you are into batch cooking and you want to have a meal ready upfront as you can make it a few days in advance. Delicious to eat cold or just warm it up for a few seconds in the microwave.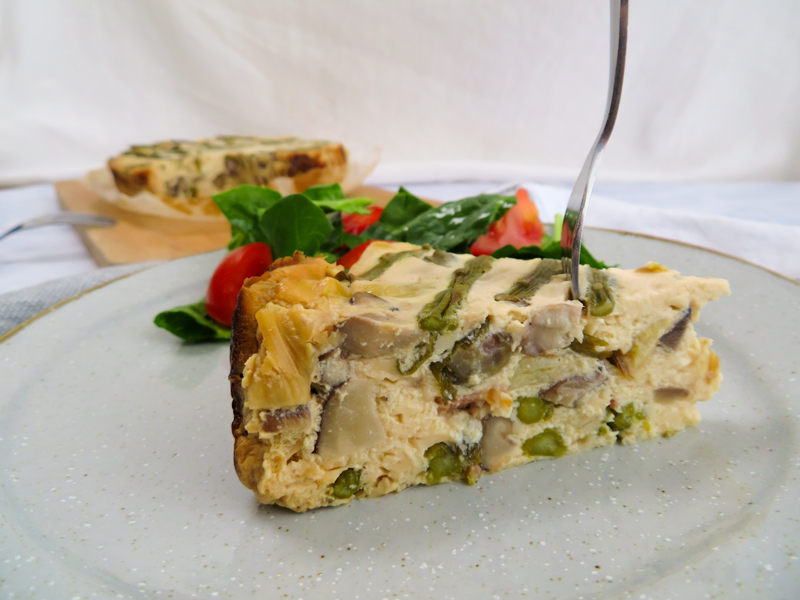 I find it easier to make it on the slow cooker but you can also make it in the oven so I have both options for you 🙂
Easy, delicious and using seasonal vegetables.
For more slow cooker recipes check here.
Let's start!
Slow cooker asparagus and mushroom quiche
Course: Meat, Slow Cooker, Vegetables
Cuisine: Mean
Difficulty: Easy
Cooking time
2
hours
30
minutes
Ingredients
150 g mushrooms, sliced

100 g asparagus, trimmed and cut into 3 cm pieces

35 g ham

85 g green onion, chopped

4 eggs

400 g cottage cheese

Salt and pepper

¼ teaspoon nutmeg

2 spoons olive oil
Directions
Heat oil in a medium size pan over medium heat.
Add green onions, asparagus, ham, and mushrooms. Cook for 4 minutes.
Meanwhile, in a medium-size bowl, whisk together the eggs and the cottage cheese. Add some salt and pepper.
When the vegetables are ready add them to the bowl and stir to mix.
Get a sheet of baking paper and soak it in water. This way will be easier to place it on the slow cooker or on a round baking tray.
Slow cooker version:
Place the baking paper on the slow cooker.
Pour the mixture into the slow cooker.
Cover and cook on high for 2 hours and 30 minutes.
Overn version:
Preheat the oven to 180ºC.
Place the baking paper on a round baking tray or coat with some olive oil.
Pour the mixture.
Cook for 30-35 minutes.
Notes
Once cold store in a closed container in the fridge for up to 4 days.
---
This post contains affiliate links.