Crispy shrimp tempura with miso mayo. Crispy and light coating and the most special miso mayo. A flavour bomb that you are going to love.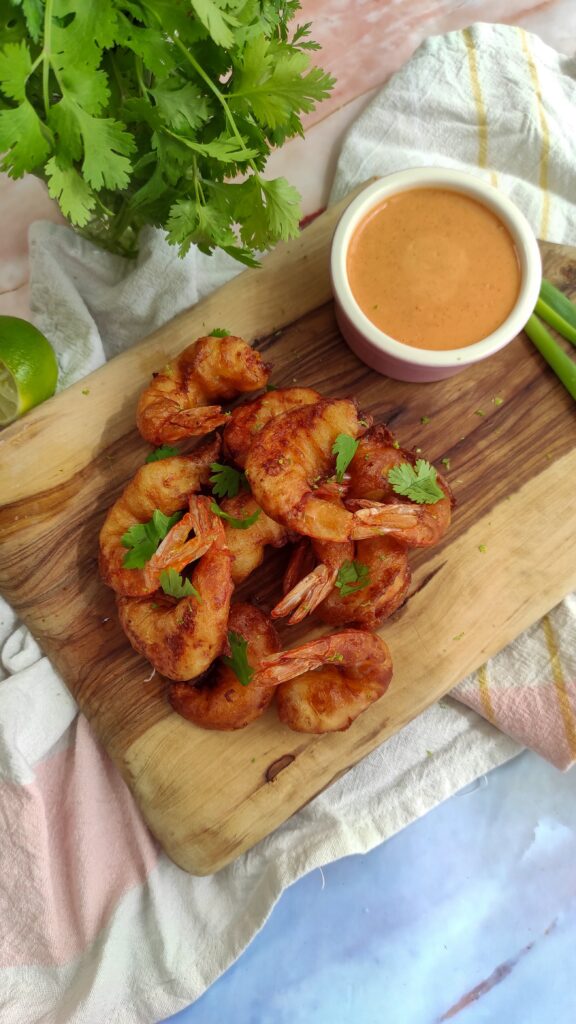 ---
Can I do fish tempura?
Yes of course you can also use fish instead of shrimps. Use fresh cod fish, hake or even squid. All those options are great to make a delicious tempura and will go really well with miso mayo.
---
Miso mayo
This miso mayo is special, it has different flavour layers that makes it unique.
So feel free to make more and enjoy it with different recipes..
I think that with this battered fish curry or this fish burger would be AMAZING!
---
What kind of miso?
I would go for white miso, something like this. I feel that the flavour of white miso is the best for this mayo.
---
Shrimp tempura with miso mayo
Course: Appetizers
Cuisine: Japanese
Difficulty: Medium
Ingredients
8-10 fresh shrimps, peeled

Tempura

1 cup flour

1 cup ice cold water or soda

1/2 teaspoon salt

Miso mayo

2 tablespoons mayo*

1 teaspoon white miso

1 teaspoon gochujang (red chili paste)

1/2 teaspoon orange zest

1/2 teaspoon orange juice

1/2 teaspoon lime juice

1/2 teaspoon rice vinegar

1/2 teaspoon moscatel wine or orange licor

To serve: Lime, fresh coriander
Directions
Miso mayo
Stir together all ingredients in a bowl.
Tempura
Heat 3 cups of neutral oil in a sauce pan, to 180°C.
Place the flour and the salt in a large bowl.
Slowly pour the ice cold water or soda into the flour. You will need around 1 cup of water but do not add all at once, add it little by little while you mix the batter.
Mix the batter until thick and light enough to coat the shrimps.
If you are not going to use the batter right away, store it in the fridge.
Dip the shrimp in the batter and add to the hot oil. If you pick up the shrimp by the tail it is easier to dip it.
Cook 2 to 3 shrimps at a time, do not crowd the pan.
Cook for 2 minutes and transfer to a plate lined with paper towel to drain the excess oil.
Repeat the process with the rest of the shrimps or fish.
Place the shrimps in a platter, add some lime zest, lime juice and fresh coriander.
Serve with the miso mayo. Enjoy it!
Notes
Mayo: You can use store-bought mayo, but if you want to make it at home use rice vinegar instead lemon juice or any other vinegar, and do not add salt.
Store the miso mayo in the fridge in a closed container for up to 3 days. It is amazing with any kind of deep fried fish.