Oven baked olives with stracciatella and fresh herbs. Easy, quick and absolutely delicious for any summer gathering.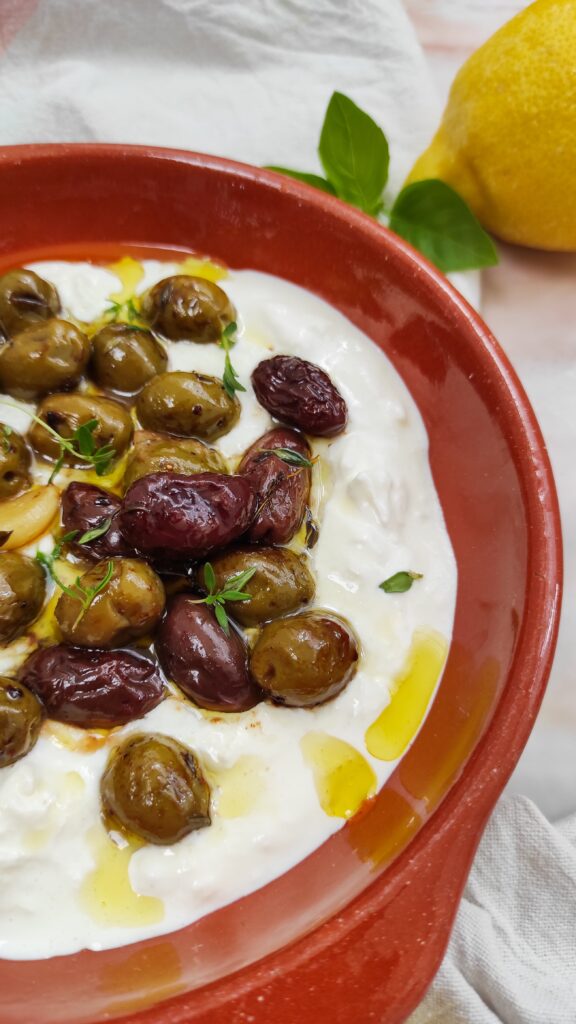 Baked olives are a MUST try this summer.
Yes, you have to try them as they are absolutely delicious! trust me.
Fresh herbs, lemon juice and olive oil are key to take even the most average olives to the next level.
What kind of olives should I use?
Use any kind of olives, but I think mixing some green and black or Kalamata olives is delicious.
I use green olives and Kalamata olives for this recipe. Try to use pitted olives (stone removed).
Stracciatella or burrata?
You can enjoy baked olives as an amazing appetizer or use them to top some creamy burrata stracciatela or burrata. The combination of stracciatella and baked olives with bread is simply DELICIOUS!
What about baking them on a BBQ?
If you are hosting a summer bbq and want to bake the olive in the bbq you can cook olives en papillote, wrapping all the ingredients in some aluminum foil. Or you could also cook them in a bbq proof pan wrapped with aluminum foil. This will take for sure baked olives to the next level.
---
Baked olives with stracciatella
Course: Appetizers
Cuisine: Mediterranean
Difficulty: Easy
Ingredients
1 cup green olives, pitted (200 g)

1 cup Kalamata olives, pitted (200 g)

1/2 lemon, sliced

4-6 fresh thyme sprigs

4 garlic cloves

1 tablespoon olive oil

1/2 lemon juice

Pepper

Burrata stracciatella or burrata to serve
Directions
Preheat the oven to 180°C.
In a medium-size baking tray combine together olives, lemon slices, thyme sprigs, garlic cloves, lemon juice, olive oil and pepper.
Bake for about 40 minutes to 180°C.
Serve warm over some burrata or burrata stracciatella.
---
Do you need more appetizer ideas?
Fresh and easy summer appetizer ideas.