A quick and easy meal ready in 20 minutes. Asian stir-fried noodles lots of veggies and cooked in soy, garlic and ginger sauce.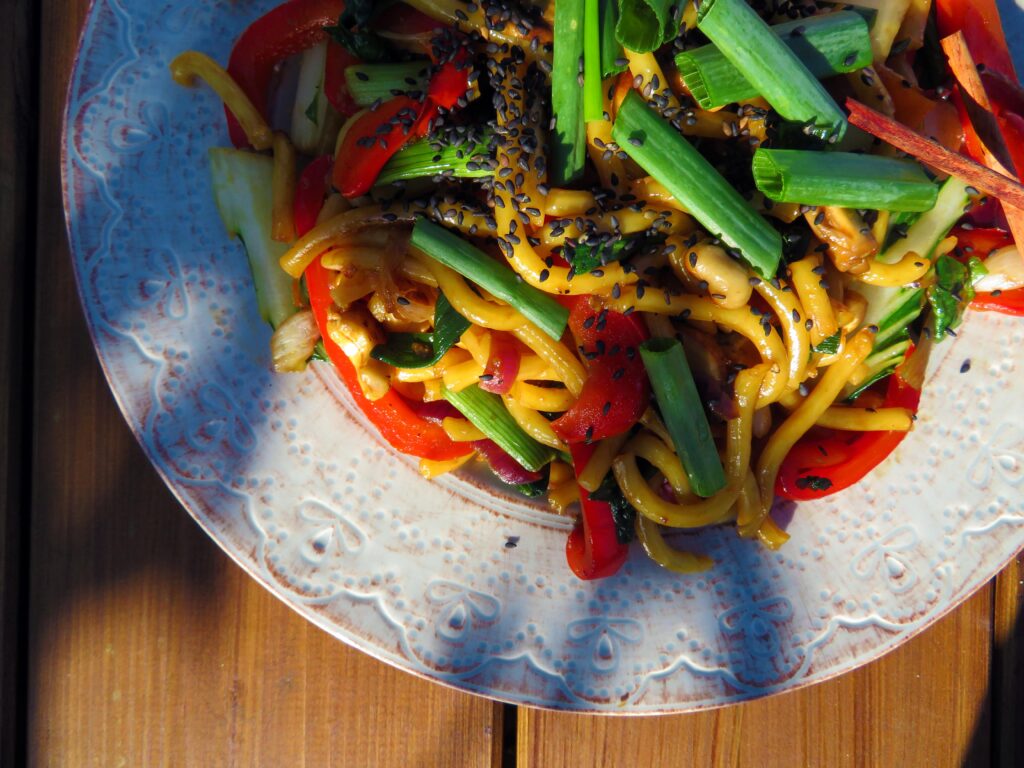 Delicious, healthy and you can adjust the vegetables depending on what you have left in the fridge. So, great for a quick meal to use those leftovers (half pepper, half onion… )
I never use the same vegetables, so you can use whatever you prefer: cabbage, sugar snap peas, yellow bell pepper, broccoli, spinach, baby corn… just try mixing some colourful vegetables.
Veggie stir-fried noodles
Course: Dinner, Lunch
Cuisine: Asian, Thai
Difficulty: Easy
Ingredients
350 g udon noodle

1 onion

1 carrot

1 red bell pepper

6 mushrooms

1 pak choi

4 spring onions

20 g cashew (natural)

2 teaspoon sesame seeds

Sauce

1 garlic clove

1 teaspoon ginger root (fresh)

1 teaspoon sesame oil

3 teaspoon light soy sauce

2 teaspoon dark soy sauce

1 teaspoon rice vinegar

2 teaspoon oyster sauce

1/2 teaspoon ground black pepper
Directions
Heat a small pan in medium heat and roast the cashew nuts for 4 minutes. Set them aside.
Take a bowl and make the sauce mixing: minced garlic, minced ginger, sesame oil, light soy sauce, dark soy sauce, rice vinegar, oyster sauce (fish sauce) and black pepper.
Cut all the vegetables. Cut the onion, bell pepper, carrot and spring onions (just the white part) into slices. Set them aside.
Cut mushrooms into slices and set it aside, do not mix with onion, pepper and carrots. Cut the pak choi in medium size pieces and set aside with mushrooms.
Cut the green part of the spring onions and set them aside with the cashew nuts.
Heat water in a medium-size pot. Add udon noodles to boiling water. Cook for about 3 minutes. Drain and rinse in a colander with cold water. Set aside.
Heat oil in a wok over high heat. Add sliced onion, bell pepper, carrots and spring onions (white part). Stir fry for 3 mins. Add mushrooms and pak choi, stir fry for 3 mins. Transfer to a plate.
Heat 1 teaspoon of olive oil in the wok and add the noodles. Add all the vegetable and the sauce. Mix and stir fry until there is almost no sauce, around 3 minutes. Add the green part of the spring onions and roasted cashews.
Serve on a plate and add sesame seeds on top.
Notes
You can add spice sauce on top when serving or add some spicy pepper while cooking.
Vegetables can be adjusted depending on what you like or have at home, you can use: Cabbage, sugar snap peas, yellow bell pepper, broccoli, spinach, baby corn