Super easy no-bake cheesecake. Creamy, not too sweet and delicious!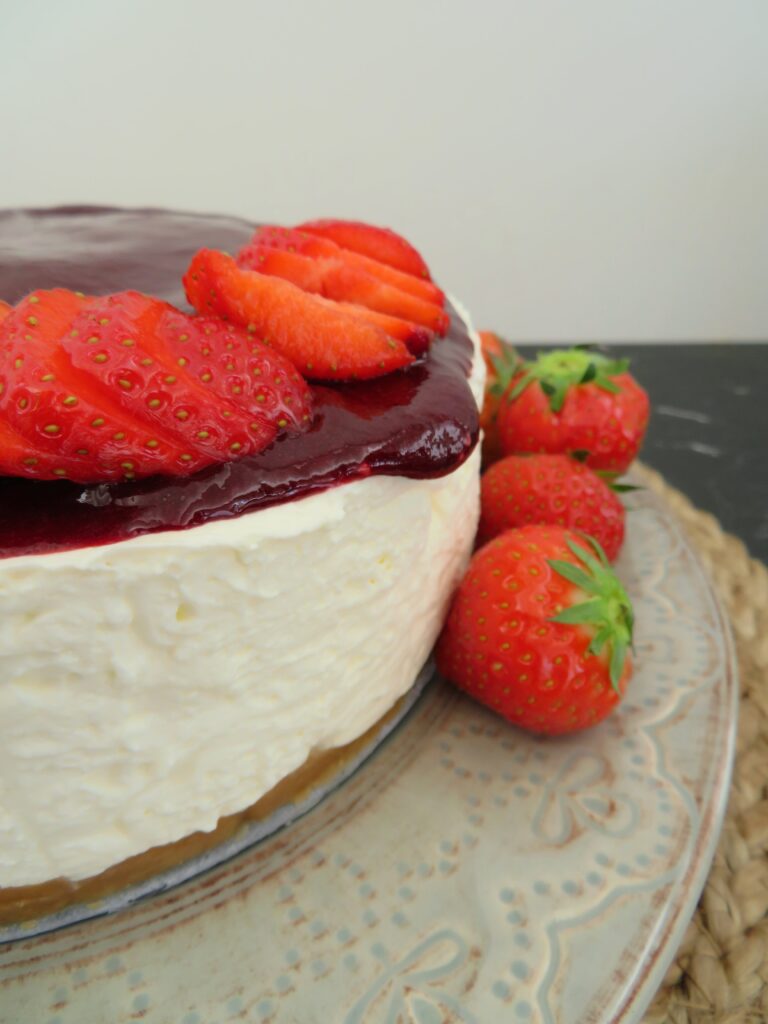 The perfect dessert for a dinner with family or friends.
No-bake cheesecake – Classic recipe
Course: Dessert
Cuisine: Spanish
Difficulty: Easy
You will need a springform pan ( 22 cm)
Ingredients
Classic biscuit base

150 g biscuits (Marie, Digestive, Lotus…)

75 g melted butter

Cheese filling

400 g cream cheese (Philadelphia) (room temperature)

250 ml Heavy whipping cream (needs to be cold)

Jam or homemade jam*
Directions
Place the biscuits into a food processor and process until small crumbs form. Transfer to a medium-size bowl.
Add melted butter and mix well until well combined.
Pour the mixture into a springform pan and press down with the back of a spoon to create an even layer or base. Transfer to the fridge until the filling is ready.
Pour the cold heavy cream in a medium-size bowl, beat the cream with a hand mixer until stiff peaks form. Medium-high speed.
Add the cream cheese and beat together with the hand mixer in low-medium speed until smooth and creamy.
Pour the cheesecake filling on top of the biscuit base and smooth with a spatula. Cover and keep in the fridge for 4 hours or overnight.
Pour the jam or homemade jam on top of the cheesecake and smooth with a spatula. It is ready to eat, but you can keep it in the fridge until dessert time.
Notes
Homemade jam: I like to make quick homemade jam for this cheese-cake, as I am not a big fan of super sweet supermarket jams.
*Homemade jam: Heat a small pot over low heat and add the frozen berries and 2 dates. Simmer for 30 mins until the fruits are completely soft. You can leave it like that or blend it well to get a creamy/jam texture. Cool it down before using it.