Fish meatball tacos with mango chutney, yogurt sauce, lettuce and avocado! BEST COMBO EVER!
If you ask me what is the best recipe I created last month, I am 100% sure it is this one!
If I ever publish a cookbook this recipe will be a must! That good!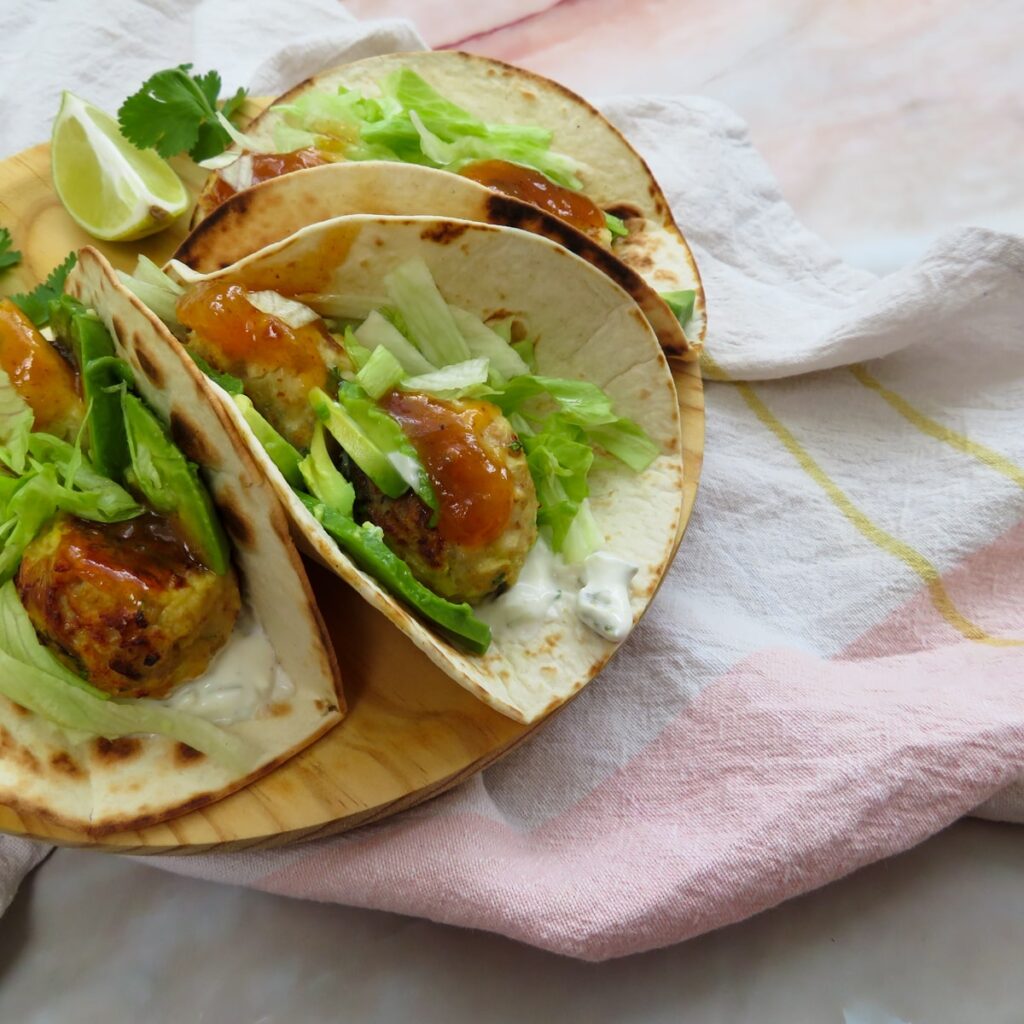 Cod fish meatballs with apple, soft, tender and with a delicate flavour.
A garlic-yogurt sauce with pickles that combines incredible with the fish meatballs.
Fresh and crunchy iceberg lettuce, creamy avocado and the cherry on top of the cake: mango chutney!
Where can I buy mango chutney?
You can find it in most supermarkets but here are some options for sweet chutney, mild chutney and hot chutney.
Can I use something else instead of chutney?
Of course, you can use peach jam.
---
Do I need to say more?
Another great recipe to enjoy the amazing organic avocados from Crowdfarming.
Fish meatball tacos with mango chutney
Course: Main
Difficulty: Medium
With the ingredients below you can make 17 fish meatballs to make 8-9 tacos
Ingredients
200 g cod fillets

1/4 onion

1/4 leek

1/4 apple, finely diced

1 garlic clove

1 tablespoon fresh parsley, finely chopped

1 egg

2 tablespoon breadcrumbs

25 g milk

Salt

Pepper

Yogurt sauce

3 tablespoons yogurt

1/2 garlic, minced

1/2 lemon juice

1 teaspoon olive oil

1/4 teaspoon cumin powder

1 teaspoon chopped pickles

Salt

Pepper

Toppings

Iceberg lettuce, shredded

Mango chutney

1/2 avocado, peeled and sliced

8-10 whole wheat tortillas
Directions
Heat a medium-size pan over medium heat.
Chop the onion, leek and garlic and cook with a little bit of oil and salt over medium heat until soft, about 10 mins. Transfer to a bowl.
Finely chop the clean cod fillets. You can use a vegetable chopper as I do or a mincer. Transfer to the bowl.
Add the rest of the ingredients: finely diced apple, parsley, egg, breadcrumbs, milk, salt and pepper.
Mix well with a spoon or with clean hands.
Shape the mixture into even size meatballs ( I made 17 balls).
Cook the meatballs in the oven for 10-15 mins over 200°C or on a pan with some olive oil.
Yogurt sauce
Whisk all the ingredients in a small bowl.
Assembly
Char tortillas on the stove-top for a few second per side.
Spread some yogurt sauce on a tortilla.
Add 2-3 meatballs, lettuce, avocado sliced and top with some mango chutney.
Enjoy and repeat! You will need more that one taco 🙂
Do you like tacos as much as I do?
Let me inspire you with some more recipes.
---
This post contains affiliate links.