Fresh and Simple Vietnamese Spring Rolls. Easy to customise with your favourite vegetables and a video to learn how to roll them. Add shrimp, pork, omelette, tempeh, tofu… adjust the recipe to make your favourite spring rolls at home.
Perfect for a weekend recipe to have homemade and customised Vietnamese spring roll at home.
Here own version of them, one with turkey breast and the other one with marinated tempeh. Without mint and cucumber, as I am not a big fan of them, and that is the best part of making them your own 🙂
The peanut sauce is just the perfect dipping to combine with freshly made spring rolls. Easy to make and just lots of flavour, spicy or non-spicy version so everyone can enjoy it.
Some ideas to customise your spring rolls:
Thai Basil
Mint leaves
Cilantro
Red cabbage
Cucumber
Jalapeño
Avocado
Mango
Apple
Sesame seeds
Roasted peanuts
Shrimp
Pork
Chicken breast
Turkey Breast
Play with the ingredients and make your own Vietnamese Fresh Spring rolls.
Another great combination: lettuce, cabbage, carrot, avocado, mint and tempeh.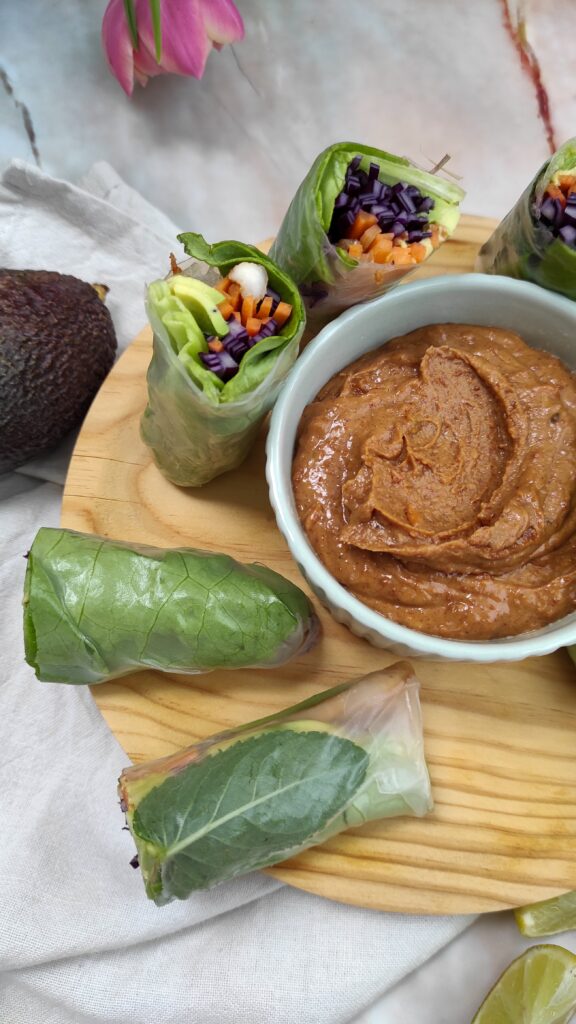 Enjoy them!
Vietnamese Fresh Spring Rolls – Video recipe
Course: Appetizers, Pintxo
Cuisine: Asian
Difficulty: Easy
With the ingredients below you can make 8 full spring rolls or 16 half rolls 😉
Ingredients
8 spring roll rice paper wrappers

1 cup cooked rice vermicelli

1 carrots, peeled and julienned

1/2 cup chopped cabbage

1 cup baby lettuce leaves

Vegan version: Marinated tempeh, sliced and fried

Meat version: Turkey breast, sliced and fried

Peanut sauce

4 tablespoon peanut butter

2 teaspoon sesame oil

4 teaspoon soy sauce

2 teaspoon rice vinegar

1 lime juice

1/2 orange juice or 1 mandarine juice

1 teaspoon fresh ginger

1 garlic clove

1/2 teaspoon ground black pepper

Spicy version: 2 teaspoon Sriracha sauce
Directions
Peanut sauce
Place all the ingredients in a food processor. Blend until you get a creamy sauce.
Divide in 2 bowls if you are going to make 1 spicy.
Add Sriracha to one of the bowl and whisk.
Rolls
See video below.
Recipe Video
Do you want more appetizer ideas? Check here.